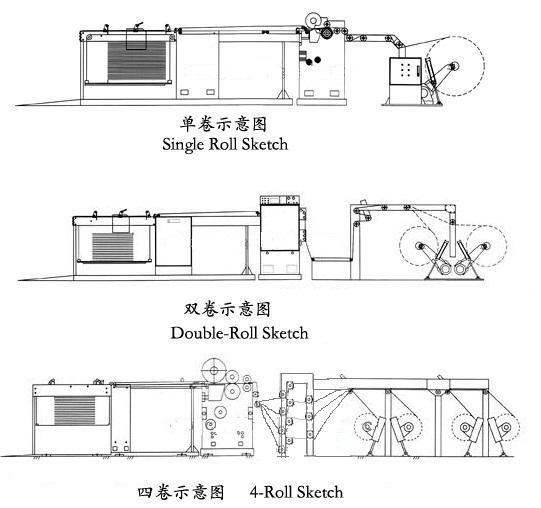 Main technical parameters
Model: 1400/1700 high-speed computer paper-cutting machine-double roll
1, Design Speed: 350 m / min, Economic Speed: 260m-300m/min
2. the length of the paper cutter (the length of which is based on the fou.ndation drawing) is about 14 m.
3, paper cutting accuracy ±0.3mm (at constant speed), less than 1.5m
4, Paper cut length: 450-1650mm (customizable to customer requirements)
5, cut paper thickness: 50g-550g
6, Paper height: 1500mm
7, Machine Center height: 1700mm
8, total motor power: approximately 25-30KW
9, Warranty time: within 12 months of debugging and installation
Hydraulic shaft-less support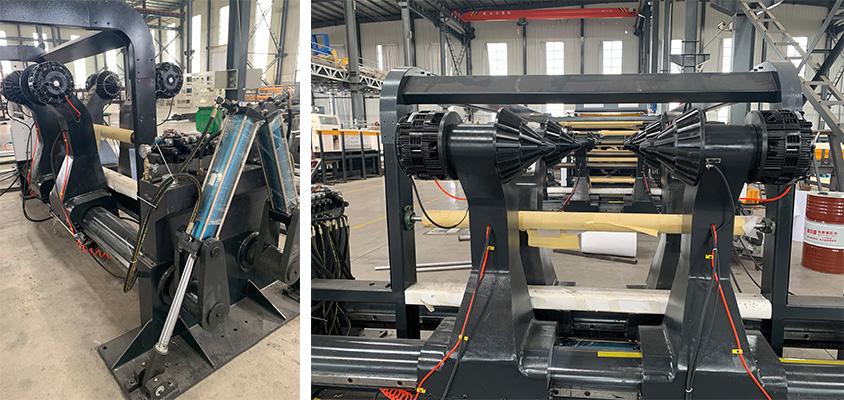 Design Feature
* Taper cast iron paper head for 3-12 corrugated roll.
* Tension control adopts multi-point brake, automatic tension control, labor saving and time and labor saving.
* symmetrical structure can be installed to cut two rolls of raw paper at the same time.
* hydraulic drive, can complete the paper lifting, clamping, loosening, moving center.
CUTTING

*The front section adopts the light alloy mist surface roller, and the reasonable design of the anti-bending frame can ensure the flatness of the paper.
*Special structural design, mechanical wallboard and base with excellent strength. The wallboard is provided with perspective window for easy observation and maintenance
*Transmission system adopts oil pump automatic cycle lubrication to ensure transmission accuracy.
*Gear fine grinding and tempering treatment, grinding precision above 6 level, small backlash, low noise, stable transmission.
*High precision tool shaft, tool rest design, high speed cutting smooth operation.
*The main machine adopts Shanghai servo drive motor and Kirby servo drive from Germany, with high quality, fast response and accurate action.
*Paper feeding adopts Shanghai variable frequency motor and Delta variable frequency driver
*Tungsten steel blade, tungsten steel welding edge, long blade life (up to one year)
Paper feeding department

*The conveying is divided into two sections: the first section is high-speed conveying, so that the cut white paper is quickly separated from the knife shaft; the second section is slow conveying, so that the white paper is superimposed and running; and quickly enters the stacking section. Between the first and second stages of conveying, a suction device is installed so that the white paper can be stacked neatly and stacked into a pile.
*The rear conveying is equipped with two sets of press rollers, one of which can be adjusted forward and backward according to the length of the cut paper.
*Maximum cutting length is 1500mm.
Stacking Department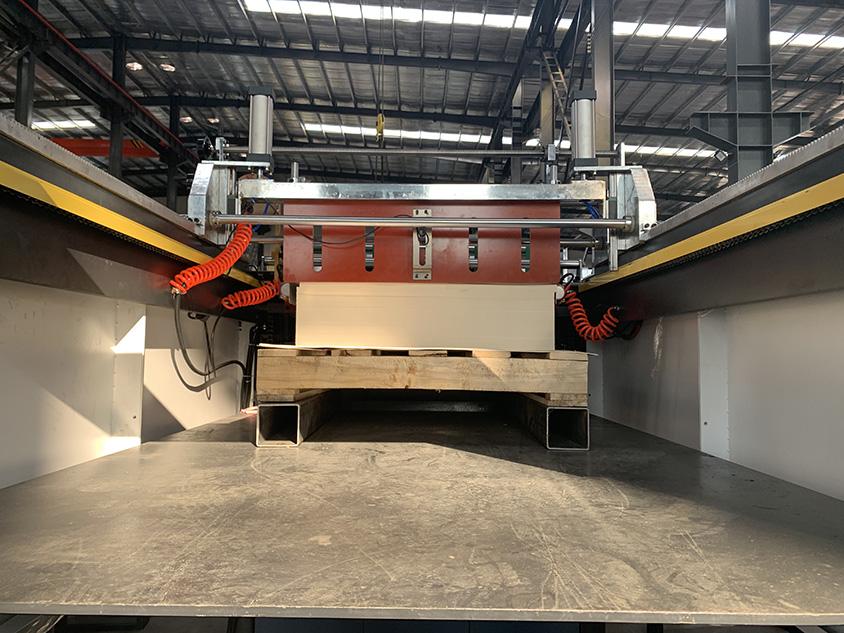 *The stacking section is equipped with front flap, side flap and rear baffle devices. The front flapping paper is an electric mechanical swing device; the side flapping paper is controlled by a pneumatic vibrating valve, so that the whiteboard paper is stacked neatly and beautifully. The rear baffle device can adjust the position forward and backward according to the length of the whiteboard paper.
*The stacking department is equipped with a label inserting device, which automatically counts and inserts label paper.
*Maximum stacking height 1500mm