HARDBOARD PRODUCTION LINE - steam/electric heating
SPECIFICATION

Overview
This cardboard composite production line is suitable for transferring 2-6 layers of 60-600g/m² roll grayboard paper through hydraulic paper support, overhead bridge transportation, edge alignment, preheating, gluing, bonding, shaping, traction, and separation. Cutting, cross-cutting, and delivery table and other processes are combined into the required thick cardboard of various thicknesses and specifications. The production line has many characteristics such as reasonable design, compact structure, high degree of automation, convenient operation and maintenance, energy saving, etc., which makes up for many shortcomings of single-machine manual pasting, greatly reducing production costs, improving product quality, and flatness to cardboard , Stiffness, surface finish, bonding strength, etc. have been greatly improved, it is an ideal equipment for making cardboard.
MAIN SPECIFICATION
Design speed: 120m/min
Economic speed: 50-100m/min
 Working width:1400/1600/ 1800mm
Power supply: 380V 50Hz three-phase four-wire system
The amount of glue used: about 15-30g per square meter per layer (the specific amount of glue is closely related to the customer's paper quality)
*Equipment Direction:Left or Right transmission will be according to client's requirements
All explanation power of the relevant parameters and images belong to our company,if there is any change, without prior notice
BUYER SUPPLY PART
*Air compressor,air pipe line and e pipeline
*Main power, electric wire from operate box to main power
*Water supply, pipeline and barrel
*Water, electric and gas, main ground foundation
*Test machine use Raw materials ( paper roll, corn starch, caustic soda, sodium borax) to test machinery
*Machine use oil, lubricate oil,high temperature cream and lubricate oil
*Installing engineer's food, hotel,commission and supply enough workers to help installing and test machine.
*Boiler 1T supply by customer
Heating part
Machine Function:
*The main function of this machine is to shape the glued cardboard, and to cure the glue through a certain amount of heat, pressure and time. The device is mainly composed of idler roller, pressure roller device, pneumatic pressure device, and frame.
Cooling part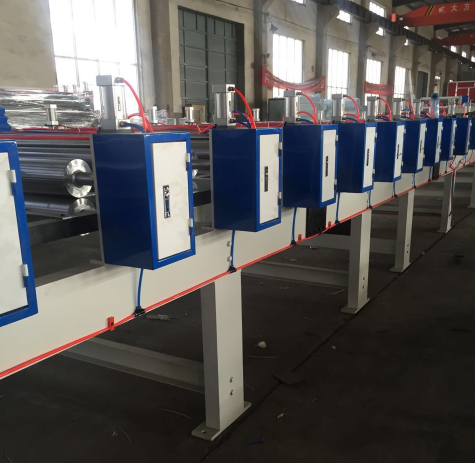 Machine Function:
*The main function of the shaping section is to shape the cardboard through a certain pressure and time. The device is mainly composed of a pressing roller device, a supporting roller device, a cooling fan, and a frame.